Peewee

Tag

ARMPW

Class

KBOT

Built by

Tech Level

1

Metal Cost

53

Energy Cost

697

Build Time

1452

Max Velocity (m/s)

21.6

Acceleration (m/s/s)

1.20

Turn Rate (deg/s)

185
The Peewee is a basic ARM Kbot infantry unit; it is cheap to build and has high top speeds which is useful for scouting and taking out unguarded metal extractors, but its weak weapon and lack of armour make it ineffective at full scale combat. It is slightly stronger than its CORE counterpart, the A.K..
Commander's Handbook
Edit
Infantry Kbot "PEEWEE"
A scout armed with dual energy machine guns, Peewee has a sophisticated suite of electronic warfare equipment which allows it to see other units at a longer than normal range. It is fast and very efficient on rough terrain and hills.
Appearance
Edit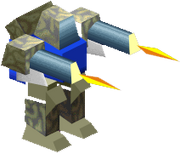 Peewees have a humanoid-like physique, but with a more 'blocky' appearance, with big box-like shoulders connected to an out-sticking chest, which sports the player's
team colour
, and a pair of arms that wield the dual EMG guns that the Peewee uses. Pretty much the entire unit is covered in one of the ARM's many camo textures, with the parts that aren't, being covered in either metal or team colour textures. Above the chest is the head, that is also of a blocky structure, but with sloped sides making it more of a prism. A backpack-like object can be seen connected to the back of the chest, with the box part of the "backpack" showing the team colour. Below the chest (as be expected) are two reletively stubby-looking legs, with a ramp-like foot attached to both of them; a pointed object that resembles a knee can be found down the middle of each leg, and (like the feet) uses a similar colour to the camo texture.
A notorious strategy when playing ARM is the so-called "Peewee Rush"  which involves building a basic economy, then getting as many Peewees out in play as possible.
Ad blocker interference detected!
Wikia is a free-to-use site that makes money from advertising. We have a modified experience for viewers using ad blockers

Wikia is not accessible if you've made further modifications. Remove the custom ad blocker rule(s) and the page will load as expected.